Exito IOT Suites – Smart Building, Smart Ambient (Temperature, Humidity), Smart Energy, Smart Plantation / Agriculture, Smart Digital Signage, Smart Fleet Tracking, Smart Street Light
ExitoIOT Suites
ExitoIOT Suites consist of:
Smart Energy
Smart Ambient (Temperature, Humidity)
Smart Plantation / Agriculture
Smart Building
Smart Manufacturing
Smart Digital Signage
Smart Student Tracking
Smart Fleet / Vehicle Tracking
Smart Energy / Street Light / Smart Ambient (Temperature, Humidity)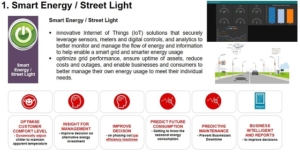 Innovative Internet of Things (IoT) solutions that securely leverage sensors, meters and digital controls, and analytics to better monitor and manage the flow of energy and information to help enable a smart grid and smarter energy usage.
Optimize grid performance, ensure uptime of assets, reduce costs and outages, and enable businesses and consumers to better manage their own energy usage to meet their individual needs.
Smart Plantation / Agriculture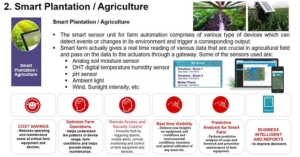 The smart sensor unit for farm automation comprises of various type of devices which can detect events or changes in its environment and trigger a corresponding output.
Smart farm actually gives a real time reading of various data that are crucial in agricultural field and pass on the data to the actuators through a gateway. Some of the sensors used are:
Analog soil moisture sensor
DHT digital temperature humidity sensor
pH sensor
Ambient light
Wind, Sunlight intensity, etc
Smart Home / Building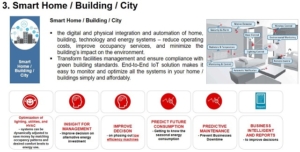 The digital and physical integration and automation of home, building, technology and energy systems – reduce operating costs, improve occupancy services, and minimize the building's impact on the environment.
Transform facilities management and ensure compliance with green building standards. End-to-End IoT solution makes it easy to monitor and optimize all the systems in your home / buildings simply and affordably.
Smart Digital Signage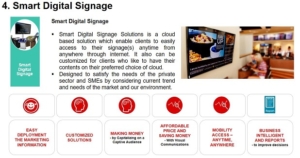 Smart Digital Signage Solutions is a cloud based solution which enable clients to easily access to their signage(s) anytime from anywhere through internet. It also can be customized for clients who like to have their contents on their preferred choice of cloud.
Designed to satisfy the needs of the private sector and SMEs by considering current trend and needs of the market and our environment.
Smart Student / Kids / Elderly/ Pets Tracker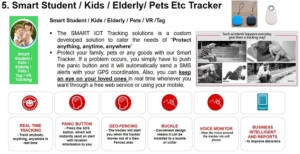 The SMART IOT Tracking solutions is a custom developed solution to cater the needs of "Protect anything, anytime, anywhere"
Protect your family, pets or any goods with our Smart Tracker. If a problem occurs, you simply have to push the panic button and it will automatically send a SMS alerts with your GPS coordinates. Also, you can keep an eye on your loved ones in real time whenever you want through a free web service or using your mobile.
Smart Fleet / Vehicle (Taxi, Motorcycle) Tracker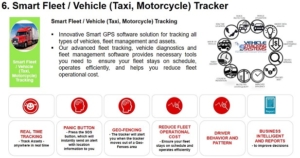 Innovative Smart GPS software solution for tracking all types of vehicles, fleet management and assets.
Our advanced fleet tracking, vehicle diagnostics and fleet management software provides necessary tools you need to ensure your fleet stays on schedule, operates efficiently, and helps you reduce fleet operational cost.