Exito Artificial Intelligence (AI), Blockchain, Robotic Process Automation (RPA) & Big Data Suites
Artificial Intelligence (AI) & Blockchain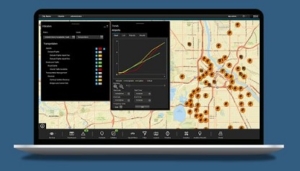 We provide Artificial Intelligence (AI) and Blockchain consulting to help organizations implement this technology today. We use blockchain technology, machine learning tools and algorithms to help companies develop Blockchain and AI-driven products and solutions.
Robotic Process Automation (RPA)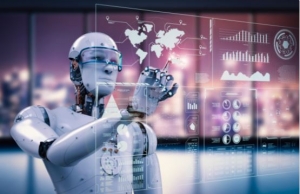 Robotics Process Automation (RPA) is at the forefront of human-computer technology and provides players in the industry with a virtual workforce that is ruled based and is set up to connect with your company's systems in the same way as your existing users. With robotics, you automate and build an automation platform for you front office, back office and support functions.
We design the most powerful RPA platform for fast and highly scalable automation solution. With RPA, you are able to automate repetitive and time-consuming tasks quickly and cost effectively.
Big Data Platform – For Data-Driven Approach Business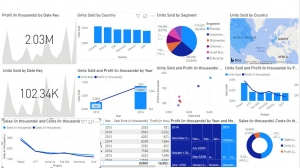 Unleash your data's full potential with our tailored data platform that allows you to build scalable data storage, analytics and also ingestion to help you to make the most out of business insights.
Design and utilize dashboards in a way that is easier to generate analysis reports with customization to fit the business needs but saving a lot of human effort.
We can not stress enough the importance of adopting a data-driven approach for your business. By definition, data-driven means making decisions by collecting and analyzing data. Data-driven businesses rely on a solid background that can guide them for better decisions that are usually crucial. Companies that depend on intuition or some personal experience are taking a big risk, whereas you can make more reliable decisions by trusting the data. We provides all the necessary services that are related to data collecting, data processing, data visualization and data analysis. This is what we are good at!
Exito IOT Suites – Smart Building, Smart Energy, Smart Plantation / Agriculture, Smart Digital Signage, Smart Fleet Tracking, Smart Street Light
ExitoIOT Suites
ExitoIOT Suites consist of:
Smart Energy
Smart Plantation / Agriculture
Smart Building
Smart Manufacturing
Smart Digital Signage
Smart Student Tracking
Smart Fleet / Vehicle Tracking
Smart Energy / Street Light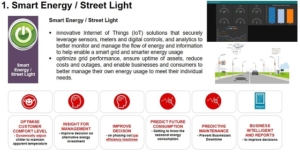 Innovative Internet of Things (IoT) solutions that securely leverage sensors, meters and digital controls, and analytics to better monitor and manage the flow of energy and information to help enable a smart grid and smarter energy usage.
Optimize grid performance, ensure uptime of assets, reduce costs and outages, and enable businesses and consumers to better manage their own energy usage to meet their individual needs.
Smart Plantation / Agriculture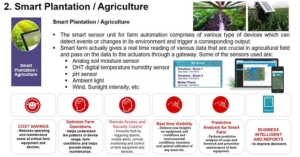 The smart sensor unit for farm automation comprises of various type of devices which can detect events or changes in its environment and trigger a corresponding output.
Smart farm actually gives a real time reading of various data that are crucial in agricultural field and pass on the data to the actuators through a gateway. Some of the sensors used are:
Analog soil moisture sensor
DHT digital temperature humidity sensor
pH sensor
Ambient light
Wind, Sunlight intensity, etc
Smart Home / Building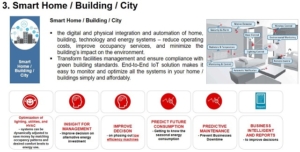 The digital and physical integration and automation of home, building, technology and energy systems – reduce operating costs, improve occupancy services, and minimize the building's impact on the environment.
Transform facilities management and ensure compliance with green building standards. End-to-End IoT solution makes it easy to monitor and optimize all the systems in your home / buildings simply and affordably.
Smart Digital Signage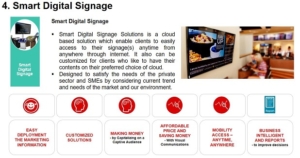 Smart Digital Signage Solutions is a cloud based solution which enable clients to easily access to their signage(s) anytime from anywhere through internet. It also can be customized for clients who like to have their contents on their preferred choice of cloud.
Designed to satisfy the needs of the private sector and SMEs by considering current trend and needs of the market and our environment.
Smart Student / Kids / Elderly/ Pets Tracker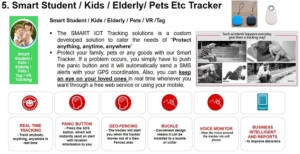 The SMART IOT Tracking solutions is a custom developed solution to cater the needs of "Protect anything, anytime, anywhere"
Protect your family, pets or any goods with our Smart Tracker. If a problem occurs, you simply have to push the panic button and it will automatically send a SMS alerts with your GPS coordinates. Also, you can keep an eye on your loved ones in real time whenever you want through a free web service or using your mobile.
Smart Fleet / Vehicle (Taxi, Motorcycle) Tracker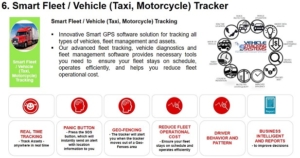 Innovative Smart GPS software solution for tracking all types of vehicles, fleet management and assets.
Our advanced fleet tracking, vehicle diagnostics and fleet management software provides necessary tools you need to ensure your fleet stays on schedule, operates efficiently, and helps you reduce fleet operational cost.
Exito Enterprise Software – ERP, HCMS, Mobility and Property Sales System
Enterprise Resource Planning (ERP) System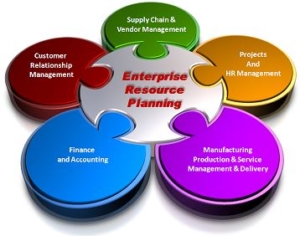 A comprehensive ERP solution that provides a holistic operational platform, well suited and designed for various business lines and accomplished with the aid of up-to-date and multi-dimensional information being presented in meaningful ways.
Property Sales and Management System (For Property Developer)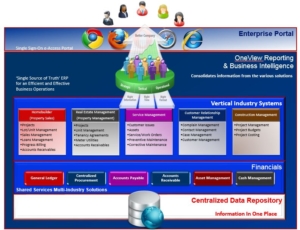 Our Property Sales and Management System is mobile-enabled and web-enabled.
Its fully configurable administrative functionality and interface defines the property sales process from start to finish, and ensures that every component of the development rollout is measurable and available to all parties at any given time, regardless of geographic location.
Designed for multiple project supervision, property management and flexible general ledger detailing functions up to sales and administration with detailed reporting and analysis.
People360Easily Human Capital Management System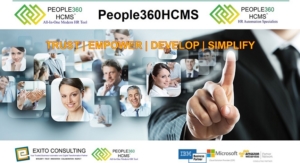 Total Integrated Modern Online HCMS solutions portal with 28 modules which includes e-Training, Job Portal, On Boarding, e-Recruitment, e-Claims , e-Manpower, e-Performance Management, e-Succession, e-Staff, e-Leave, e-OT, e-Travel, , e-Compensation, Attendance, Payroll, KPI and etc modules.
Helping Head of HR and Admin to AUTOMATE Training, Recruitment, On-Boarding, Appraisal, KPI Performance and HR Announcement Processes – by Going DIGITAL AND PAPERLESS.
Our software is Modular Basis and Agnostic, which mean our solution can be deployed by module and co-exist with your current Leave / Payroll / Attendance system. We offer both the Outright Purchase or Cloud Computing (Saas) models for all our customers.
Exito Cloud Computing Solutions and Hosting
Amazon AWS

Amazon AWS Cloud
Backup & Disaster Recovery
Enterprise Cloud Hosting
Big Data & Analytics
Enterprise Mobility Suite
Google For Work

Google for Work, Drive, Vault
Google Android for Work
Google Chromebox for Meeting
Google Chromebooks
Google Cloud Platform
Google Maps & Geospatial
Google Search Appliances (GSA)
Google Adwords / Analytics
Google for Education
Microsoft Cloud Solution

Microsoft Office 365
Microsoft Azure
Microsoft Sharepoint / Power BI
Exito Infrastructure and Networking
Enterprise Hardware & IT Supply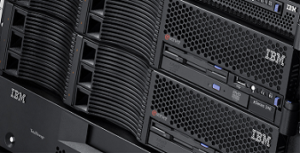 IBM Power Systems (AIX, IBM I, Linux) servers and parts
IBM Systems x (xSeries) servers and parts
IBM storage (disk and tape) systems and parts
EMC enterprise storage systems and parts
HP UNIX systems and parts
Cisco network & security equipment
Oracle (Sun) enterprise servers and parts
Infrastructure Facilities & Technical Services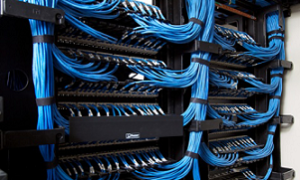 Network Infrastructure Connectivity Design and Implementation
Network & Security Design
High Availablity (HA) Solutions
Backup Solutions
Installations and configuration (Hardware & Virtualization)
Honeywell Handheld / Mobile Devices – ScanPal EDA51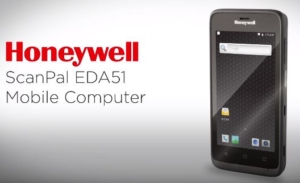 The ScanPal EDA51 helps businesses increase employee efficiency with an intuitive touchscreen, a powerful processor, an industry leading scanner, and a long-life battery to help mobile workers get more done in less time.
The ScanPal™ EDA51 mobile computer, the newest member of Honeywell's popular ScanPal family, is that tool. With a fast Qualcomm® Snapdragon™ SDM450 processor and robust wireless connectivity, your workers can access crucial business apps and information when they need it – and provide the best possible service to your customers.
Suitable to use in environment: Plantation, Distribution Centers, Field Service, Fleet Management, Healthcare, Manufacturing, Retail, Ports and Intermodal, Courier/Express, Transportation & Logistics.
Data Sheet: scanpal-eda51-handheld-computer-data-sheet-en
 Video: Honeywell ScanPal EDA51 Read Write NFC Tag Honeywell EDA51 Read Write NFC Tag Save